Overview
Tap into the Future of Avionics
Touchscreen GPS/Nav/Comm/MFD backed by decades of proven technology
Fly WAAS LPV approaches down to 200' minimums
Displays charts, traffic, weather and more
Interfaces with popular avionics using industry standard protocols
Approved for installation in hundreds of aircraft models

Packed full of powerful avionics, GTN 750 is a fully integrated GPS/NAV/COM/MFD solution. The 6" tall system's intuitive touchscreen controls and large display give you unprecedented access to high-resolution terrain mapping, graphical flight planning, geo-referenced charting, traffic display, multiple weather options and much more.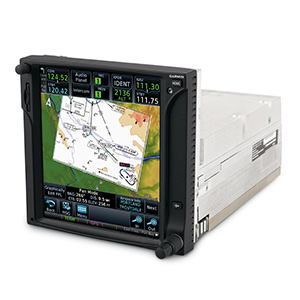 Touch and Go
With GTN 750's revolutionary new touchscreen interface, you're rarely more than 2 taps away from all of the system's primary functions. Quickly pan across the map screen simply by swiping your finger across the 6.9" diagonal high resolution TFT display. Or enter waypoint data with the full onscreen keypad. It's even designed with raised grips in the bezel and a shelf across the lower edge of the display that serve as gripping points in both smoother and turbulent flight conditions. Traditional concentric knobs are also available for those who are used to that style of data input. If you have a GNS 430W/530W, your active flight plan automatically crossfills from the GTN to the GNS. You can also manually crossfill user waypoints back and forth between both devices.
Navigate with Ease
The GTN family makes it easier than ever to get where you're going. Graphical flight planning capabilities allow you to preview your entire route on the map screen and easily enter new waypoints or modify existing ones. The system even lets you load Victor and jet airways. A handy "rubber band" feature lets you grab any leg of your flight plan route and move it to accommodate a deviation or ATC amendment to your flight plan. The GTN 750 also allows you to enter your most recently visited or nearest airports as waypoints and "Direct To" destinations. With high-resolution terrain mapping — including topography features, cities, airports, terminal areas, SUAs and more – and optional Class B TAWS alerting, you'll find your way around the airspace safely and with ease. Built-in Garmin U.S. FliteCharts™ or optional Jeppesen®-style ChartView™, provides you with geo-referenced approach plates and procedures, while Garmin SafeTaxi® lets you see geo-referenced runways, taxiways, FBOs and hangars available in either the U.S., Europe or Canada.
In IFR conditions, you now have more landing options, as well. The SBAS/WAAS-certified, 15-channel GPS receiver generates five position updates per second, enabling you to fly GPS-guided LPV glidepath instrument approaches down to as low as 200 ft. The system also includes a complete package of VHF navigation capabilities, with a 200-channel VOR/ILS with localizer and glidescope. When you load procedures, the GTN will preload NAV frequencies for you to manually switch to and can auto select the VHF NAV source for ILS approaches. In addition, precise course deviation and roll steering outputs can be coupled to select autopilots so that IFR flight procedures may be flown automatically. This includes all ARINC 424 leg types, except RF legs. (For example, when coupled with a G500/G600 Flight Display, the aircraft can fly fully coupled missed approaches, including heading legs.)
Make Communication a Breeze
A fully certified, 2,280-channel VHF communications transceiver provides a standard 10 W (or optional 16 W) of power output. The system is pilot-selectable to both 25 kHz and 8.33 kHz channel spacing. With the GTN 750, you can set your standby Com frequency simply by touching the onscreen number pad. Another touch of the screen flip-flops your active and standby frequencies. Recent and favorite user frequencies also are a breeze to access. For added safety, holding down the volume knob will automatically dial in the emergency frequency.
See More than Ever Before
With a wealth of multifunction display capabilities, the GTN 750 brings enhanced situational awareness to your cockpit. With high-resolution terrain mapping — including topography features, cities, airports, terminal areas, SUAs and more — and optional Class B TAWS alerting, you'll find your way around the airspace safely and with ease with Smart Airspace™. Smart Airspace automatically highlights airspace close to your current altitude and de-emphasizes airspace away from the current altitude, which gives you increased situational awareness.
Add Traffic, Weather and More
The dual-link GDL® 88 allows the GTN 750 to display up to 60 ADS-B traffic targets. TargetTrend™ relative motion technology offers pilots a faster, more intuitive way to judge the direction and closure rate of intruding targets in relation to their aircraft's position. And unique SURF technology supports the display of ADS-B-equipped surface targets on Garmin SafeTaxi® airport diagrams — including taxiing aircraft and ground vehicles. The GDL 88 can also receive the FAA's subscription-free FIS-B weather broadcasts that include graphical NEXRAD radar information, as well as NOTAMs, METARs, TAFs and more. Even better the GTN provides the GDL 88 with the WAAS position source required for ADS-B, so a WAAS version of the GDL 88 is not required. And consider adding a Garmin Traffic System to compliment the GDL 88 to provide the best possible traffic coverage from now until 2020.
Couple the system with a GDL® 69 series datalink receiver and you can also receive SiriusXM® weather and radio (subscriptions required). An optional GSR 56 can provide World Wide Weather data virtually anywhere on the globe, as well as the ability to make and receive phone calls and send and receive texts messages while in the air. You can also collect and display your own weather data with an onboard weather radar — such as the solid state and Doppler-capable GWX™ 70 with it's optional turbulence detection and ground clutter suppression features, or a wide range of other third-party systems.
The GTN 750 can control the GMA 35 remote audio panel with SD Audio, Telligence™ Voice Control, clearance recorder, advanced auto squelch and more, as well as the GTX™ 33 remote transponder. When installed together, this setup could save you up to 3" of panel space versus a typical GNS 430/530 install.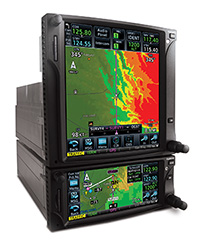 Fly with Helicopter-Specific Enhancements
The GTN 750 is available with a number of optional enhancements to help meet the unique demands of helicopter missions. It's been designed to meet the stringent helicopter vibration and temperature testing standards needed for environmental qualification. It also features a helicopter-specific obstacle database that adds nearly 30,000 low-altitude obstacles, as well as a navigation database with heliports and high-resolution terrain database. For added safety, optional HTAWS provides 5-color shading to show nearby terrain in proximity to your helicopter and provides voice callouts when descending below 500'. The GTN 750 is also optionally compatible with Night Vision Imaging Systems (NVIS) for use with a wide range of optics.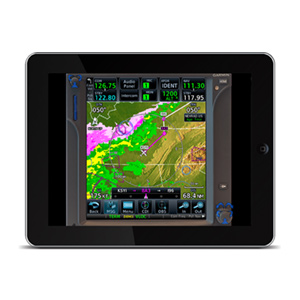 Stay Up to Date
GTN 750 features a front-loading SD™ card reader, so you can easily update your databases. PilotPak™ database bundles are now available on a single aircraft basis, saving you money and simplifying the update process — visit flyGarmin.com to learn more.
GTN 750 is now available for purchase from your Garmin Authorized Dealer. See it in action at an upcoming seminar or in person at a demo dealer location, or with our free downloadable PC Trainer or iPad® app.



Features
Menu-driven graphical interface on color LCD touchscreen display
Feature-rich MFD capabilities: moving map, chart display, airways, approaches and more
GPS TSO'd to C146c, authorized for Class 1,2,3 (LPV)
GPS WAAS-certified to Gamma-3 approach capability
WAAS-corrected GPS signal accuracy to 1 M RMS
Built-in GPS/ILS/VOR/LOC and glideslope capabilities available
Graphical flight planning (including airway navigation)
VHF COMM transceiver: 8.33 or 25 kHz channel spacing
Com transmit power: 10 W standard, 16 W optional
Extensive optional interface capabilities: lightning, weather, traffic, TAWS-B terrain alerting, and more
Integrated control/display for remote transponder
Integrated control for remote audio panel functions
Flight control system interface for select autopilots
Optional XM WX Satellite Weather and SiriusXM Satellite Radio
SafeTaxi® airport diagrams
Award-winning product support and 2-year warranty



Specs
Physical & Performance

Unit dimensions, WxHxD
6.25"W x 6.00"H x 11.25"D (15.9 x 15.2 x 28.6 cm)
Display size, WxH
4.46"W x 5.27"H (11.33 x 13.39 cm); 6.9" diag (17.52 cm)
Display resolution, WxH
600 x 708 pixels
Display type
Color TFT LCD; sunlight readable
Weight
9.3 lb (4.24 kg)
Voltage range
11-33
Built-in VHF Comm
yes
Transmit power
10 watts minimum; 16 watts minimum (optional)
Built-in VOR/Loc/Glideslope
yes
SBAS/WAAS receiver
15 channel; TSO-C146c
IFR or VFR
IFR
Maps, Databases & Memory

Basemap
Yes
Navigation data
full and non-precision approaches, DPs and STARs, Victor/Jet Airways, eCharts (w/ Optional Enablement)
Navigation database coverage areas
Americas, International or Worldwide*
Preloaded Terrain database
Yes
Preloaded Obstacle database
Yes
Preloaded SafeTaxi™ airport diagrams
Yes
Preloaded Garmin FliteCharts®
Yes (U.S. only)
Jeppesen ChartView™
Optional
Waypoints/favorites/locations
1000
Flight plans
99 reversible; up to 100 waypoints each
Features & Benefits

Fly SBAS/WAAS approaches
Yes
Front-loading datacards (conveniently update database information)
Yes
XM WX Weather & Radio for U.S. & Canada compatible
Yes
Traffic Information Services (TIS) alerts compatible
Yes
Class B TAWS alerting compatible
Yes
Additional
2 year warranty
Eligible for PilotPak databases

*Databases included: world-wide basemap, world-wide obstacles, world-wide terrain, region-specific NavData, US SafeTaxi, US Airport Directory
In the Box
GTN 750 10 W COMM or 16 W COMM (field upgradeable)
Cleaning cloth
SD card with databases
Installation kit
Simulation software DVD
Familiarization video DVD
Pilot's guide
Cockpit reference guide
Complimentary database update certificate
Package contents may vary per version. See your local dealer for more information.
Comparison
| | | |
| --- | --- | --- |
| Product Comparison | GTN 750 | GNS 530W |
| Simple, centralized and intuitive touchscreen pilot interface | Yes | No |
| Sleek, modern, streamlined design with fewer mechanical knobs, buttons, and switches to learn | Yes | No |
| Display type | Full color TFT LCD | 8-color TFT LCD |
| Display size (GTN 750 is nearly 100% larger) | 4.46"W×5.27"H | 4"W×3"H |
| Display resolution (GTN 750 has over 550% more pixels | 600×708 pixels | 320×234 pixels |
| Reduce panel space with remote avionics | Yes | No |
| Ability to control remote audio panel | Yes | No |
| Ability to control remote transponder | Yes | No |
| Airway navigation | Yes | No |
| Geo-referenced approach charts right on the moving map page | Yes | No |
| Graphical flight plan editing; "Rubber banding" | Yes | No |
| Geo-referenced SafeTaxi diagrams that overlay on the moving map page for many airports in the U.S. and Europe | Yes | No |
| Ability to display and control weather radar like never before | Yes | No |
| Advanced ADS-B "In" Display (ADS-B symbology, TargetTrend™ relative motion, Surface application, weather products and more) | Yes | No |
| Optional Worldwide Weather, Voice, Text Messaging | Yes | No |
| High Resolution Terrain | Yes | No |
| Advanced weather features (including Canadian WX, cloud tops, Sigmets/Airmets, city forecast, WX forecast, icing potential, turbulence, Pireps/Aireps, and more) | Yes | No |
| PilotPak eligible, databases for the entire aircraft, for a single annual price | Yes | No |
| Heading and altitude leg types allow select autopilots to fly missed approaches and other leg types | Yes | No |
Customer Service
Garmin Sites

Authorised Distributor for PAKISTAN