Overview
GPS Navigator + ABC Watch Takes You Off the Beaten Track
Altimeter, barometer and 3-axis compass with automatic sensor calibration
Up to 1,000 waypoints and store up to 10,000 track points
TracBack reverses the track log to navigate back to your starting point
Wireless capability to share routes, tracks, waypoints with other devices
Compatible with wireless heart rate monitor, cadence sensors and tempe™ wireless temperature sensor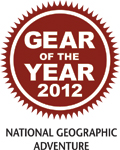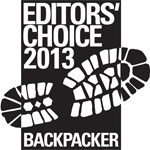 Utilizing our leading GPS technology, fēnix provides comprehensive navigation and tracking functionalities as well as trip information to guide you on and off the beaten track. Its built-in sensors provide information on heading, elevation and weather changes. It's built to endure the toughest outdoor conditions — and also makes a stylish day-to-day timepiece.
Plan, Navigate and Track
fēnix lets you create routes, record up to 1,000 waypoints (such as campsites or points of interest), and record GPS bread crumb trails on the move (tracklogs). Navigate to coordinates, along a track or route, towards waypoints, geocaches or along any other selected bearing. The TracBack® function guides you back along a previously recorded tracklog so you can easily find your way to the safety of a vehicle, trailhead or campsite in case of an emergency or bad weather conditions.
Plan trips and share adventures with friends and family using BaseCamp™. fēnix is equipped with both ANT capabilities and Bluetooth® to wirelessly share tracks, waypoints, routes and geocaches with other compatible Garmin devices or smartphones.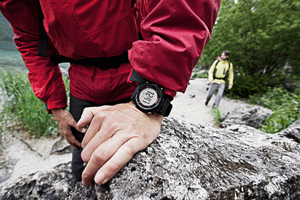 Altimeter, Barometer and Compass
fēnix is equipped with ABC sensors (altimeter, barometer and compass) to provide relevant real-time information. The built-in altimeter provides elevation data to accurately monitor ascent and descent, while the barometer can be used to predict weather changes by showing short-term trends in air pressure. The 3-axis electronic compass keeps your bearing whether you're moving or not.
fēnix auto-calibrates its ABC sensors using its GPS receiver and also auto sets the time based on location. For an extremely accurate temperature reading, pair it with our tempe™ external temperature sensor.
Measure Performance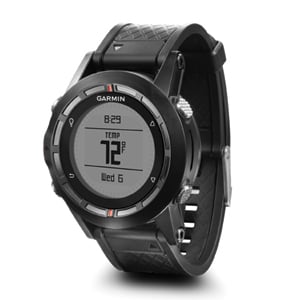 fēnix provides real-time performance data, such as distance, pace, cadence and calories, helping you keep track of your progress during and after your adventures. fēnix is compatible with our premium heart rate monitor, speed/cadence bike sensor and footpod — for indoor or outdoor use.
Built to Endure the Roughest Conditions
fēnix combines a strong housing to survive shocks with a mineral glass lens to resist scratching. It boasts a large LCD display with LED backlight and a robust polyurethane wristband. It's waterproof to 50 meters and has a battery life of up to 50 hours in GPS mode (depends on settings) and up to 6 weeks in watch mode. Basic watch functions include alarms, tones, vibration alerts, timer, stopwatch and world clock with the ability to display several times zones at once.
Features
Altimeter

The built-in barometric altimeter provides accurate elevation information to keep track of ascent and descent.

Barometer

The built-in barometer helps you monitor and predict weather changes by showing you short-term changes in the barometric air pressure. If the barometric pressure begins a steady decline, this could be a warning of an impending storm.

Compass

The 3-axis electronic compass keeps your bearing whether you're moving or not. Sight a bearing and be confident fēnix will keep you headed toward your goal.

Temperature Sensor

The built-in temperature sensor keeps track of how rapidly the temperature is rising or falling, helping you determine clothing and shelter needs or whether it's time to turn back.

Wireless Communication

Easily share tracks, waypoints, routes and paperless geocaches wirelessly with other compatible Garmin GPS devices and smartphones. fēnix is equipped with both ANT™ capabilities and Bluetooth® technology. Pair fēnix with external devices, such as our external temperature sensor, heart rate monitor and speed/cadence bike sensor.
Specs
Physical & Performance:

Unit dimensions, WxHxD
1.9" x 1.9" x .7" (4.9 x 4.9 x 1.7 cm)
Display size, WxH
1.2" (3.1 cm) diameter
Display resolution, WxH
70 x 70 pixels
Display type
transflective, monochrome LCD
Weight
2.9 oz (82 g)
Battery
rechargeable lithium-ion
Battery life
up to 50 hours (GPS mode); 2 weeks (sensor mode); 6 weeks (watch mode)
Waterproof
Yes (50m)
Floats
No
High-sensitivity receiver
Yes
Interface
USB
Maps & Memory:

Basemap
Yes
Preloaded maps
no
Ability to add maps
No
Built-in memory
20 MB
Accepts data cards
no
Waypoints/favorites/locations
1000
Routes
50
Track log
10,000 points, 100 saved tracks
Features & Benefits:

Automatic routing (turn by turn routing on roads)
No
Electronic compass
Yes (tilt-compensated 3-axis)
Touchscreen
No
Barometric altimeter
Yes
Camera
no
Geocaching-friendly
Yes (Paperless)
Custom maps compatible
No
Photo navigation (navigate to geotagged photos)
No
Hunt/fish calendar
Yes
Sun and moon information
Yes
Tide tables
No
Area calculation
Yes
Custom POIs (ability to add additional points of interest)
Yes
Unit-to-unit transfer (shares data wirelessly with similar units)
Yes
Picture viewer
No
Garmin Connect™ compatible (online community where you analyze, categorize and share data)
Yes
Additional

Watch functions: time, date, alarm, timer, chronograph, chimes and vibration

Fitness functions include: user profiles for running and cycling, Auto Pause®, Auto Lap®, alerts, customizable data fields such as heart rate, distance, pace, calories, laps, cadence and more

This USB mass storage device is compatible with Windows® XP or newer and Mac® OS X 10.4 or later.
In the Box
Watch Only
fēnix outdoor GPS watch
USB cable
AC adapter with plug
Quickstart Guide
Performer Bundle
fēnix outdoor GPS watch
Premium heart rate monitor
Interchangeable orange and black bands
Screws/torx tool
USB/charger cable
AC adapter with plug
Quickstart Guide
Customer Service
Garmin Sites

Authorised Distributor for PAKISTAN